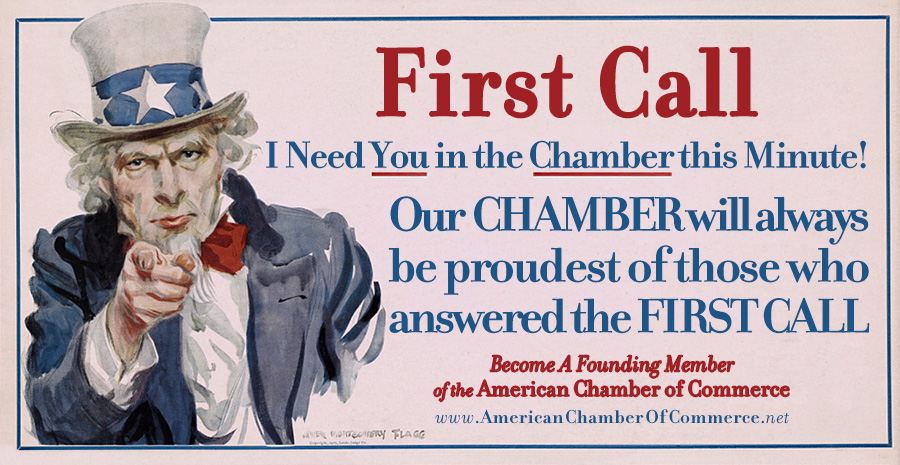 "First Call"
"I Need You in the Chamber this Minute"
We Take Care of Founders
The American Chamber of Commerce is a national B2B & B2C networking platform; a modern cross between a social network and your local chamber of commerce.
We allow one membership account per legal business entity, with a required domain name for use as your username.
Members are free to post profiles and digital content, investigate other members for business purposes, and sell anything.
Founding Partners may add additional businesses at the same rate as their original membership cost for so long as they maintain one active annual renewal.
Members are encouraged to refer new businesses to the Chamber. Founding Partners may be rewarded financially.
Join today... your annual membership cycle begins January 1st. A free 2023..

Founder may receive additional support options during this window.
Note that we are not obligated in any way to investors, advertisers or anyone other than Chamber Members.
Our Founding Members are our investors!
Ready to be a Founding Member?
Let us know:
Founder's Membership Has Its Privileges
Founding Member benefits begin with private networking with business peers and partners locally and nationwide.
Our Founders are our investors. In addition to the obvious rewards of membership you might expect, we have reserved special benefits just for our Founders:
Special Pricing for the Life of the Member Business
Email & Phone Support for the Duration of Founder Days
Referral Fees for Founding Members
Future Special Offers through our Business Stack
Random Rewards for Active Users (such as Free Renewals)
The Privilege of Nominating Future Pro Bono Recipients
Founders Referenced through Chamber Marketing
The Prestige of Being a Founding Chamber Member
Your participation and feedback will help shape the future of the Chamber.