7 Steps to Maximizing your Chamber Benefits:
Join The American Chamber of Commerce

Maximize Financial Wellness
Make A List of Regular Payments
Cancel What's Not Profitable
Review New, Cheaper Options
Replace Strategic Suppliers
Invest In New Innovations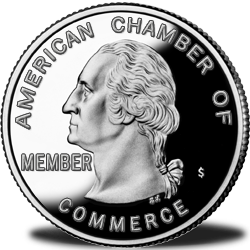 Ready to be a Founding Member?
Let us know:
A Chain is Only as Strong as its Weakest Link...
Assemble your Business Stack with Chamber Partners. Make a checklist. We can manage introductions.
Investigate other options when and if needed, including other Chamber Members.
You should be able to eliminate a huge amount of risks and delays that come with the usual trial-and-error results so common to startup ventures.
For Businesses that are Up and Running…
We are here to support your needs as a strategic support partner.
We don't want you to replace the valued partners you know and trust.
Let our Business Stack"fill in the blanks" and source your required products and services for a "business renovation."
Before you start anything else, manage your Financial Wellness
You credit dictates your cost of doing business as well as your cost of living.
Find new suppliers willing to compete for your business.
Investigate insurance(s) for possible huge savings
Lower your phone and cable bills.

Just ask, and threaten to leave. They'll pay to keep your account.

The cost of marketing has dropped, aided by technology and analytics.
Advertising can be shared with other Members for huge savings.
Change your merchant account a.s.a.p., saving as much as a third of the cost.
Online stores and shopping carts are evolving fast, offering big savings.
Shipping solutions
Bookkeeping and taxes are now managed with low cost technology.
Employee benefits options MUST be reviewed.
Security must keep up with threats.
Proper estate planning ensures that your life's work transfers how you want.
Selling your business requires a big network.
If You Have Been Coasting for a While
Businesses rarely investigate "alternatives." They simply accept the status quo. If it ain't broke, don't fix it...
For example, many credit card holders have had that same couple of credit cards for ten or twenty years. They would never think of investigating other, better options, even if they lowered their interest rate by 20%.
You still get your business cards from the print shop down the street because it was easy the first time, even if it cost 50% more.
Most businesses operate this way. Even if they do shop around for any reason, they rarely get more than one or two quotes.
A penny saved is a tax-free penny earned. Dollars saved are much more valuable than dollars earned, after taxes.
The Chamber's Business Stack offers a selection of vetted providers of the tools and services you want or need. At least you can start with them, and maybe avoid costly trial and error results.
Don't overlook the potential for other Chamber members, local or otherwise to complete your business stack! Publish Requests for Proposals to find the perfect fit for your needs.